May 16, 2023 - May 20, 2023
Singapore + Virtual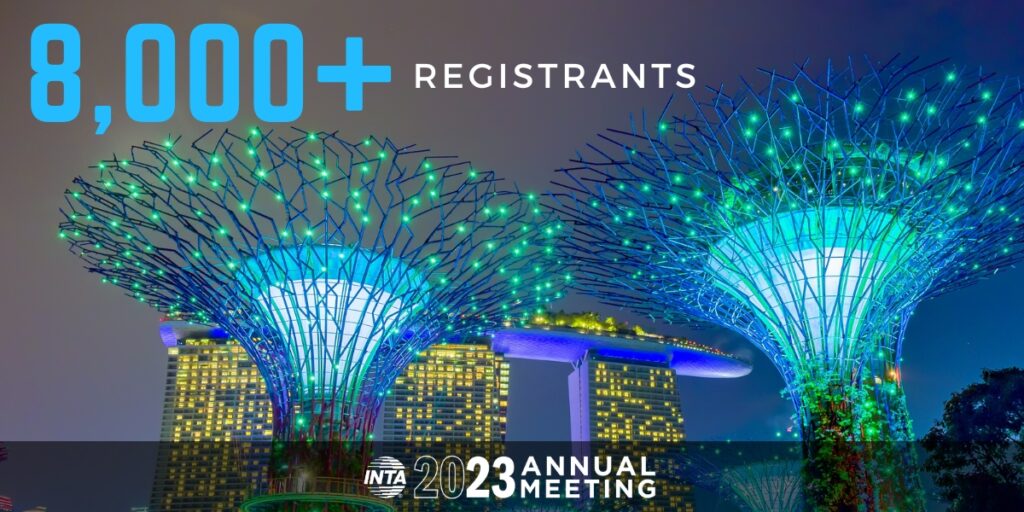 INTA's 2023 Annual Meeting Live+ will connect the most influential brand professionals from across the globe and industries at the largest gathering of its kind.
10 Bayfront Avenue | 018956, Singapore
INTA Daily News
See highlights and insights from the 2023 Annual Meeting Live+ in our curated digital magazine:
Zaheera Hashim
Procter & Gamble
Singapore
Karina Dimidjian Lecomte
Casalonga
France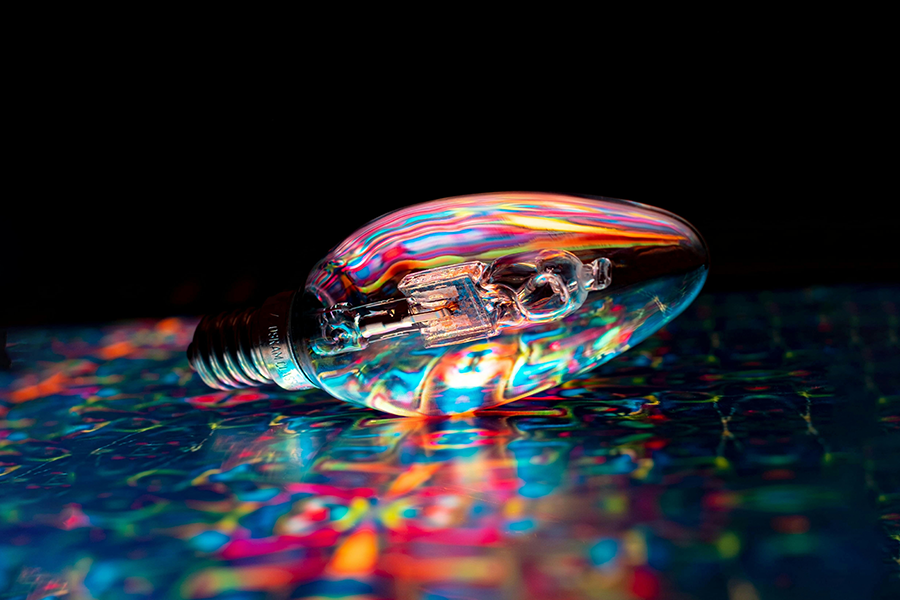 Innovation Marketplace
A one-stop shop for all of your IP service needs.
The Innovation Marketplace at the 2023 Annual Meeting Live+ will feature exhibits, food concessions, hospitality, Business Track programming, a convenient Meeting Point, and Speed Networking.
We showcase all types of exhibitors, such as service providers, law firms, government offices, media, marketing professional, universities, trademark professionals, brand owners, and others interested in gaining premier access to our registrants.
See the 2023 Innovation Marketplace floor plan.
All booth space for the 2023 Annual Meeting Live+ is sold out. 
Learn More
Open Innovation Challenge
We're proud to host our first-ever Open Innovation Challenge from May 17–May 19 at the Sands Expo and Convention Centre in Singapore for start-ups and scale-ups.
Taking advantage of Singapore's vibrant innovation and entrepreneurship ecosystem, this Challenge provides a unique opportunity for start-ups and scale-ups to pitch their business idea, gain valuable insights, and network with other entrepreneurs from around the world.
The application period is now open.
Learn More
Wednesday, May 17 | 11:30 am–1:00 pm

Learn about the progress of the INTA Foundation Fellowship Program—and what's next in 2023. All proceeds will benefit the Fellowship Program and future initiatives.
Learn More & Register
Tuesday, May 16 | 6:30 pm–7:30 pm

Join the INTA PAC Board of Governors for a reception in Singapore. This reception is a bipartisan fundraiser for INTA PAC and is not a personal fundraiser for any candidate.
Learn More & Register
Be a Part of the Solution:
Donate to Our Carbon Offset Program
We're proud to partner with renowned sustainability expert CLIMATE PARTNER, which helps organizations like ours achieve carbon-neutral status.
When you register for the 2023 Annual Meeting Live+, be sure to set your donation to help us work together to reduce our carbon footprints going forward.
Learn More & Donate Now
Platinum Plus
Tencent
Tencent is a global technology and entertainment company founded in 1998, and publicly traded on the Hong Kong Stock Exchange since 2004. The company connects users to premium content and services through innovative digital entertainment and communications platforms, as well as through an increasing array of enterprise solutions. Apps like Weixin/WeChat, for example, connect more than one billion people globally, helping them communicate with friends and family, make digital payments, share content, and stay connected with brands and merchants through official accounts and mini programs. Tencent Video and Tencent Music bring the enjoyment of popular TV, film, sports, and music to hundreds of millions of users, while Tencent Games enjoys a reputation as the developer of many of the world's most popular video games. At Tencent, we believe intellectual property serves a critical role in supporting creativity, innovation, and enterprise and we are proud supporters of INTA's Annual Meeting.
"Tencent is proud to support INTA and welcome the Annual Meeting to Singapore. A robust and well-functioning trademark environment requires precisely this type of global collaboration, coordination, and sharing of networks, regulatory developments and best practices to drive innovation, sustainable business, and cross-industry partnerships. On a personal level and as an INTA member since 1999, it is wonderful to support this meeting between old friends and colleagues."
—Danny Marti, Head of Public Affairs and Global Policy, Tencent
Platinum—Lanyards
GoDaddy Corporate Domains
With unparalleled industry experience and expertise, GoDaddy Corporate Domains understands the complexities of managing corporate portfolios like no other. Committed to providing the highest levels of security, service, and support, GoDaddy Corporate Domains is an ICANN-accredited registrar solely focused on corporate domain name management solutions that leverage today's technology and access to data to enable informed, data-driven domain management decisions.
"We're thrilled to be a platinum sponsor at this year's annual meeting – we really are excited. And now that we're back to in-person meetings, we're looking forward to meeting-up with our clients and prospects to better understand their objectives for the year, and how we can help them to achieve their goals."
—Phil Lodico, Head of GoDaddy Corporate Domains
Platinum—Wi-Fi
Tracer
Tracer accelerates brand success for the world's most-loved brands. The Tracer Platform mitigates digital brand misuse to preserve authentic customer interactions and uncovers new categories of dynamic market insights to fuel better business decisions. Applying advanced human-in-the-loop AI approaches to continuously analyze data across thousands of global Web2 and Web3 digital sources, the Tracer Platform yields rapid infringement detection with market-leading accuracy and faster time to enforcement.
Gold Plus—In-House Practitioner Reception
Abu-Ghazaleh Intellectual Property (AGIP)
In the last five decades, Abu-Ghazaleh Intellectual Property has grown to become one of the largest IP service agents worldwide with a widespread network of offices across the world. AGIP delivers tailored IP services to its clients, who range from individuals to multinationals with large intellectual property portfolios.
AGIP earned international recognition as it has received the Managing Intellectual Property (MIP) Award for being the top IP firm in the Middle East for 13 years.
Gold—Table Topics
Dannemann Siemsen
Dannemann Siemsen is formed by a team of experts and has been dedicated to defending Intellectual Property since 1900. The firm operates throughout the world, offering first-rate IP services and litigation, covering all industry segments of large companies as well as attending IP Firms from all different regions.
Our experience was built in human knowledge, ethical values, diversity, and a continuous pursuit of being ahead of the future changes.
Gold—Meeting Point
Vanrell Intellectual Property Attorneys
VANRELL INTELLECTUAL PROPERTY-ATTORNEYS is an IP boutique that provides a full range of services including obtaining and enforcing all kind of IP rights, not only in Uruguay but also in the rest of the Latin American countries and Caribbean Islands. The firm provides highly specialized and personalized services to its clients.
Silver—Speed Networking
Complete IP Services
Complete Intellectual Property Services, specialize in intellectual property law in the Caribbean with locations in Florida and Anguilla.  Clients benefit from convenient service in 29 destinations under the advice of our attorneys at a competitive rate.  Our staff are fluent in English, Dutch, French and Spanish.  Our services include trademark prosecution, clearance, and enforcement.
SILVER—SPEED NETWORKING
LexOrbis
LexOrbis is a premier full-service IP law firm with 260 personnel, providing excellent business-oriented and cost-effective solutions for the protection, enforcement, transaction, and commercialization of all forms of intellectual property in India and globally.
Silver—Registration Confirmation EMail
OLIVARES
OLIVARES provides solutions for complex legal challenges in Mexico in IP, life sciences, entertainment, new technologies, and data privacy—and includes a successful litigation practice.
Silver—Registration Confirmation EMail
Osha Bergman Watanabe & Burton LLP (OBWB)
Osha Bergman Watanabe & Burton LLP (OBWB) is a full-service intellectual property law firm with a global reach.
Silver—Registration Confirmation Email
ST&P Attorneys and Agents
Full range Intellectual Property firm committed to provide cutting edge professional expertise related to procurement, litigation and enforcement of businesses' international IP rights.
Please contact us to learn about our customizable sponsor opportunities.
---

Asia IP
A vital source of intelligence for IP-owning companies and law firms that want to keep ahead of the key issues, Asia IP focuses on the issues behind the headlines, providing analysis of the challenges companies face when trying to protect their intellectual assets, and the solutions and law firms they can turn to.
China IP
China IP is an IP-focused media pioneer since 2004 with a monthly publication of China IP. As a comprehensive media platform, it also successfully runs the China IP International Annual Forum since 2011, talk show and live-streaming programs as well as various social media accounts spreading IP's voice at home and worldwide.
Global IP Matrix
The Global IP Matrix is the only print and digital IP industry-specific publication authored by legal professionals in the intellectual property sector.
Our content is 100% contributed by IP industry legal professionals for professionals in the IP field.
Industry thought leaders provide comprehensive, detailed analysis reports on innovation, IP trends, new legislation, and IP strategy, amongst other topics in the IP spectrum internationally.
We have an unbiased approach, and we welcome thought leaders at all levels to share their knowledge and experience through sharing thought-provoking content.
For more information, please contact us at  [email protected] or call +44 (0)203 813 0457
Global Legal Group
Global Legal Group is an independent digital media company based in central London.  Our clients are private practice and in-house lawyers, multinational corporations, and professional services firms in over 190 countries around the world.
Founded in 2002, Global Legal Group's first product was the International Comparative Legal Guides (ICLG) series, which has grown into a world-renowned legal resource that covers the law in more than 192 jurisdictions and across 58 practice areas.
Since 2009, GLG has also produced Commercial Dispute Resolution, an online news and print magazine for litigation and arbitration specialists. In 2011, GLG introduced Global Legal Insights, an essential analytical resource detailing current legal issues spanning 16 practice areas, and, in 2014, African Law & Business was unveiled. Since 2012, GLG has also hosted a successful series of conferences and events, including the annual Global Class Actions Symposium, the premier event for international class actions specialists.
Our mission is to provide outstanding performance for our clients and partners. We provide the digital technologies and expertise that they need to boost their brand exposure and market reach, as well as access to the world's leading online network of legal experts. By only partnering with the leading legal and business authorities, we also ensure that the information we provide is topical, enlightening and authoritative, making our products the go-to resource.
IPR Daily
IPR Daily is a globally influential IP industrial media, which covers 1 million readers in China. IPR Daily is committed to connecting IP practitioners globally. Its readers include governmental agencies, law firms, business premises, and academic institutions across the world.
Law.asia
Law.asia is the digital home of Asia Business Law Journal, China Business Law Journal, and India Business Law Journal and a wealth of legal resources for in-house counsel, business managers, and private practice lawyers interested in Asian business law and regulation.
To enjoy a 10% subscription discount, please click here.
Managing Intellectual Property (MIP)
Managing IP is the leading source of news and analysis for intellectual property developments worldwide. We track the strategies of company IP counsel, provide business-critical analysis, and deliver insight on key deals and legislation.  IP STARS is the leading specialist guide for firms and practitioners' accreditation worldwide.
Trademark Lawyer Magazine (CTC Legal Media)
CTC Legal Media are globally renowned publishers of The Trademark Lawyer and The Patent Lawyer Magazines, reporting on core IP matters. Each edition is overflowing with special features including guest interviews with in-house counsel, case comment, and the latest developments in the field delivered to a combined readership of 93,000+ professionals.
World Intellectual Property Review
60,000+ IP professionals rely on World IP Review as their leading source of news and analysis on patents, trademarks, and copyright worldwide. No other online resource offers such a wealth of insight and guidance on trending topics within the IP sector. To access our latest articles and learn about upcoming events, visit our website.
World Trademark Review (WTR)
World Trademark Review (WTR) is the trusted source of worldwide news, analysis and data on the management of trademarks. It keeps you up to speed with the global issues and strategies that matter, giving you the detail and depth you need to operate successfully.
---
Live+
In-Person + Virtual
In-Person
ONLY
Virtual
ONLY
May 16–20 (In-Person)
+
June 27–29 (Virtual)
May 16–20
June 27–29
Learn More!
$1,675
Best Value
$1,625
Excludes Virtual Access

$525
Excludes In-Person Access

Live+ registration gives you access to all the general sessions at both the in-person and virtual portions of the Meeting. All limited attendance events sold separately. Pricing above reflects Standard Member rates. Full event pricing and deadlines can be found in the tables below.

Live+ Package Registration
(In-Person & Virtual)
All prices listed reflect United States Dollars (USD)
Early Bird
Standard
Onsite
January 11, 2023 – March 10, 2023
March 11, 2023 – May 11, 2023
May 15-20, 2023
Member
$1,475
$1,675
$2,275
Emeritus Member
$875
$875
$875
Government Member / Non-Member
$875
$875
$875
Non-Profit Member / Non-Member
$875
$875
$875
University Member
$875
$875
$875
Professor Member
$675
$675
$675
Student Member
$475
$475
$475
Non-Member
$3,175
$3,375
$4,175

In-Person ONLY Registration
All prices listed reflect United States Dollars (USD)
Early Bird
Standard
Onsite
January 11, 2023 – March 10, 2023
March 11, 2023 – May 11, 2023
May 16-20, 2023
Member
$1,425
$1,625
$2,225
Emeritus Member
$625
$625
$625
Government Member / Non-Member)
$625
$625
$625
Non-Profit (Member / Non-Member)
$625
$625
$625
University Member
$625
$625
$625
Professor Member
$425
$425
$425
Student Member
$225
$225
$225
Non-Member
$3,125
$3,325
$4,125
Bulk Discount Pricing

INTA offers Corporate and Associate registrants of the 2023 Annual Meeting Live+ with complimentary registrations if the following has been satisfied:
Corporate Registrations: Buy three (3) full price Live+ registrations within the same umbrella organization, receive one (1) free Live+ registration, and so on.
Associate Registrations: Buy five (5) full price Live+ registrations within the same umbrella organization, receive one (1) free Live+ registration, and so on.
Limitations: Only paid Live+ Package Registrations (In-Person + Virtual) will count towards the Bulk Discount Pricing calculations outlined above; In-Person Only registrations will not count towards Bulk Discount Pricing calculations. Calculations depend on organizations to be properly related.
Exclusions: Registration prices that are lower in value than the highest value Member or Non-Member offerings are not eligible for Bulk Discount Pricing, namely: Emeritus Member, Government Member/Non-Member, Nonprofit Member/Non-Member, University Member, Professor Member, Student/Student Bridging Member, and any complimentary registration (other than those provided by the Bulk Discount Pricing calculations).
Questions about bulk discount pricing? Contact us.
---

We encourage you to review our Event Policies, which apply to all INTA events.
Refunds
For consideration of a refund for the Live+ or In-Person Only-portion of the Meeting, submit your Refund Request Form to INTA Member Operations stating in detail the reason for the refund request and including copies of relevant supporting documents for the refund request.
Full refunds for the registration fee paid will be issued only if a refund request is received by Friday, March 10, 2023, 11:59 pm (United States Eastern Time).
Full refunds for the registration fee, minus an administration fee of US $150, will be issued for refunds requested after Friday, March 10, 2023, 11:59 pm (United States Eastern Time).
No refund requests will be accepted, and no refunds will be given beyond Thursday, May 11, 2023, 11:59 pm (United States Eastern Time).
Substitutions
Your base registration for the Annual Meeting and any additional related events is transferable to another person affiliated with your member organization umbrella.
To facilitate the substitution process, please submit your Substitution Request Form to INTA Member Operations, stating in detail the reason for the substitution and the person attending in your place.
All substitution requests must be submitted by Thursday, May 11, 2023, 11:59 pm (United States Eastern Time).
---
Privacy Overview
This website uses cookies so that we can provide you with the best user experience possible. Cookie information is stored in your browser and performs functions such as recognising you when you return to our website and helping our team to understand which sections of the website you find most interesting and useful.